Outdoor Living Areas in Sherwood, AR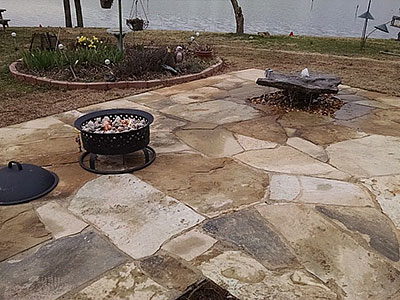 Derden Landscape & Irrigation excels in creating comfortable, practical, and stunning outdoor spaces. We are one of the leading companies in this industry and offer a range of outdoor living services to our clients here and in the surrounding areas.

We maintain impeccable quality, use the latest techniques in our work and provide customized solutions to our clients. Here are some services we offer:


Comfortable Patios and Decks
Patios and decks are a great way to enjoy the outdoors. They provide extra space to relax in your garden or backyard, which is a great way to optimize your property. Patios and decks are also an excellent option for entertaining guests, as they allow you to create a comfortable and inviting atmosphere in your yard.

There are many options for outdoor patios and decks, including designs that match the style of your home's interior decorating theme. We can customize your patio and the other elements according to your preferences to blend naturally into any outdoor space—whether that means having retaining walls with in-built seating and installing a custom-designed pergola for shade during hot summer days!

If you're building a new deck or patio off the ground, there are plenty of materials available. For example, if you plan to use wood as your primary material, then cedar will give you excellent weather resistance while being strong enough to withstand heavy use. Composite woods come in different colors and textures, which allows them to blend into almost any environment (including tropical).

Metal decks are also popular choices because they offer strength without weighing down your home with unnecessary lumber weight. Our team will provide you with all the information about these and paver decks and patios. Pavers are becoming the preferred option for many homeowners, and we can install concrete, natural stone, or brick pavers. We plan the design and pattern based on the styling of the other features on your property, so the space looks cohesive and welcoming.


Custom Designed Outdoor Kitchens
An outdoor kitchen is a great way to bring the family together while cooking. Cooking can be a social activity, and the right setting will encourage you to spend time together as a family these days. Outdoor living areas are always fun and engaging but cooking outdoors has a distinct appeal.

Cooking outside is also an excellent way of entertaining guests, especially those who like to be outdoors during warm weather. You save on energy costs by having your meals outside during warm weather months when it's too hot or humid inside/ We plan your outdoor kitchen to your requirements. Our creative designers will perfectly plan and design every aspect of your outdoor space.


Fantastic Outdoor Fireplaces and Fire Pits
Fireplaces and fire pits are a classic way to extend your living space into the outdoors. You can easily create a focal point for your hardscape or even add a cooking station by building a stone wall around the outside of the pit. If you're looking for something smaller, try adding an outdoor fireplace insert instead!

Outdoor living spaces can be as basic as some comfortable chairs around a fire pit to a fully covered area with an elaborate outdoor kitchen, wet bar, a flat-screen TV, fireplace or fire pit, ceiling fans, and an outdoor music system. Regardless of what you want out of your outdoor living area, we are here to help.

For additional information about our outdoor living services, please call Derden Landscape & Irrigation at 501-514-3864. You can also drop us a line through this online form, and one of our team members will contact you soon to discuss the project details.