Irrigation Systems Greenbrier, AR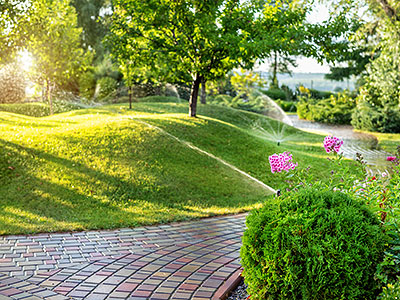 The overall performance and longevity of landscape irrigation systems largely depend on how they are designed and installed. These are the main reasons why property owners should look for an expert designer and installer. And one of the very few companies in Arkansas that can provide this kind of service is Derden Landscape & Irrigation.

We provide clients with highly efficient irrigation and sprinklers that can last for years with minimal maintenance effort. We have been designing and installing these very important landscape installations for clients in Greenbrier, Little Rock, Conway, and other areas in Central Arkansas. If you also need expert installers, please call us today.


Efficient Irrigation Design
The key to a healthy and lush landscape is an efficient irrigation system. And here at Derden Landscape & Irrigation, we make sure that our Greenbrier clients will greatly benefit from the efficient system that we will install for them. Our irrigation and sprinklers are designed with water conservation in mind. We take note of the various factors that may affect the efficiency of the system. For example, we consider the topography of the area, the types of plantings installed, the existing hardscape features, and the preferences of our clients. These factors will help us create a system that will not only help minimize water consumption but also ensure sufficient nourishment of the various softscape features.

Meanwhile, we highly recommend automated sprinkler systems to clients with expansive lawns and commercial landscapes. Their set-and-forget feature is one of the main reasons why most Arkansas property owners prefer them over traditional irrigation systems. You, too, can have an automated irrigation and sprinkler system by hiring our services today. We can set up a system with modern features and devices, such as rain-shut-off device, flow sensors, moisture sensors, timers, and smart controllers. With these features, you can just sit back and relax while your sprinkler system is doing the job for you.


Experienced and Certified Installers
Our crews are all experienced in irrigation and sprinkler installation. They have the required training and experience in installing various types of landscape irrigation systems. And as a select contractor of RainBird, our installation personnel were all trained by the company in the correct and efficient installation of its irrigation products. From choosing the right sprinkler heads to installing controllers, you can always rely on our crews' expertise.

Since we are certified installers of RainBird products, you will not only get excellent installation but also premium-quality irrigation products. RainBird provides us with all our needed parts and accessories, which are proven durable and long-lasting.


We Offer the Best Warranty
At Derden Landscape & Irrigation, we are always committed to provide clients with top-notch services regardless of the simplicity or complexity of the irrigation project. We want them to be happy and completely satisfied with the results of our work by using only premium-quality materials and ensuring outstanding workmanship. In fact, we are the only company in Greenbrier, AR that offers a 5-year warranty on parts and labor. This is how confident we are when it comes to the quality of the irrigation systems that we design and install.

Call the experts in residential and commercial irrigation systems now at (501) 514-3864. With us, you are assured of a well-thought-out irrigation design and expertly performed installation.